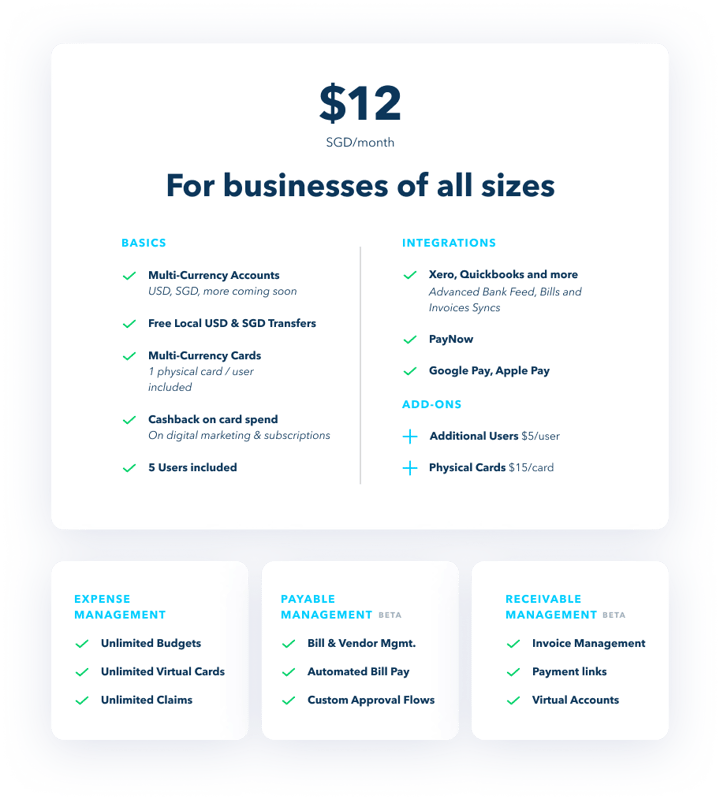 *Prices shown are not inclusive of prevailing GST charges
Since Aspire first started, our mission has been to empower the next generation of entrepreneurs.
As we continue to invest in building the best all-in-one finance management platform for businesses, we want to make sure that building more features for you continues to be a sustainable activity for us.
Thus, we will be introducing our Standard pricing plan. With our Standard plan, the same great value you've been enjoying with Aspire remains unchanged. Your investment towards your Aspire account will provide you access to features catered to your needs, along with new releases that take your account to the next level, so you won't have to spend on multiple software and instead can do it all with Aspire.
How we thought about pricing
We have companies of various sizes using Aspire, using a different combination of features.
After taking into account customer feedback, we decided to keep things simple yet scalable.
With one pricing for all, we want our customers to continue enjoying our all-in-one benefits without limits.
What new features can I expect with the Standard plan?
Pricing's not the only change we're making. We will also be releasing the following features that take your account to a whole new level

30+ more multi-currency accounts

Free physical cards (one per user)

Payable and receivable management capabilities

Enhanced book-keeping capabilities
If you're interested in saving more time and money
At just S$12/month, you gain access to uncapped money and time savings with advanced expense management features, unlimited cashback and more. Businesses using Aspire have saved an average of S$39,000 /year and 117 hours with Aspire's all-in-one business account.
If you're juggling multiple subscriptions to manage your business finances
Say goodbye to the headache of managing separate finance platforms for invoicing, employee claims and more. The typical business has 7 disconnected financial service providers. With Aspire, you save all the money and trouble with everything in one place by investing in one powerful account.

If you're making more than 25 local transfers a month
By subscribing to our Standard plan, your account is already paying for itself! Local transfers typically cost S$0.50 - if you're making ≥ 25 local transfers monthly, you've gained back the cost of our plan with free local transfers. Not to mention how much you'd save on our great FX rates which are up to 4x cheaper than banks!


We're here to help! Please reach out if you have any questions regarding our new pricing plan.